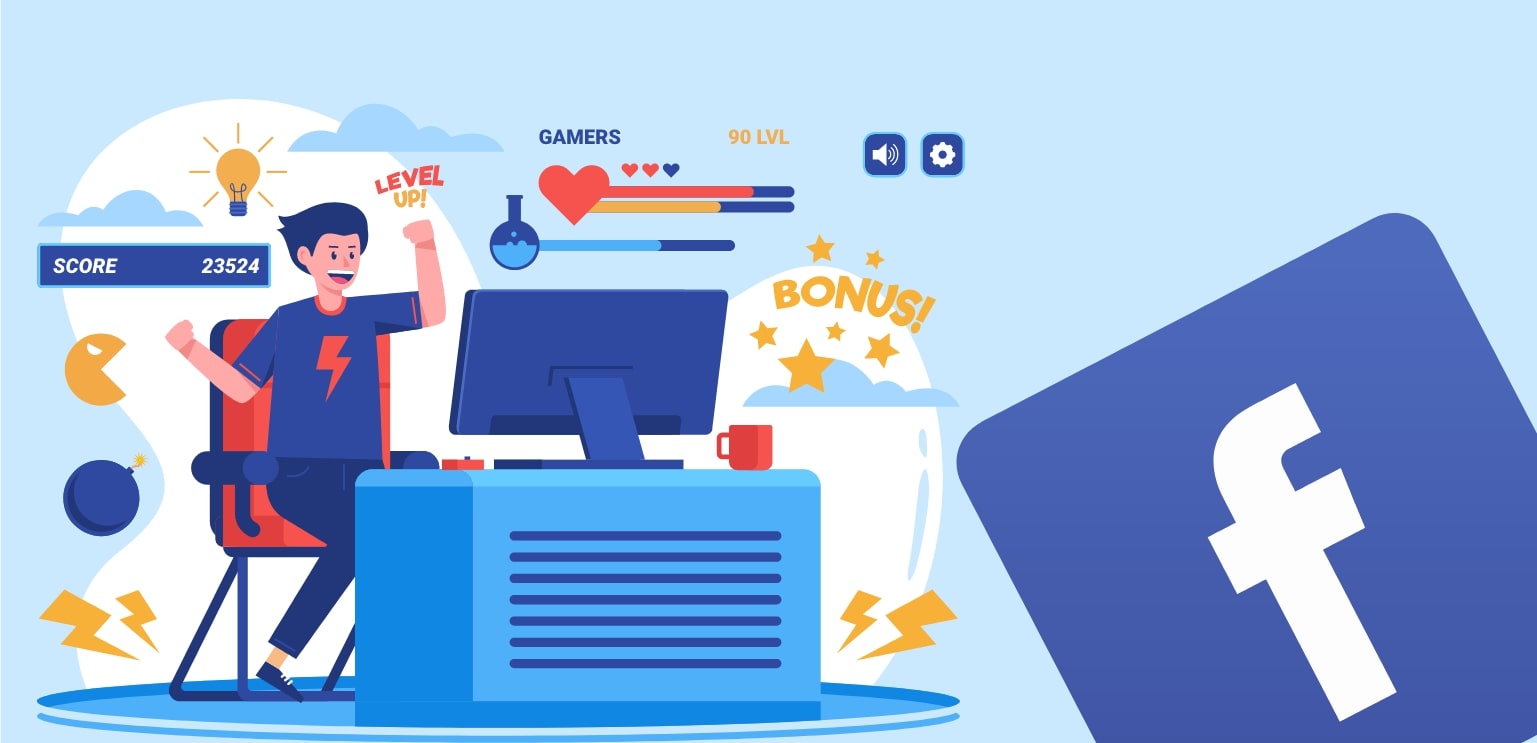 We have picked a hot topic to discuss in today's blog that will give you insights about Facebook gaming platform and enables you to learn how to bag more boons to your business using the amazing gaming platform with simple mini HTML5 games.
In this blog, we have covered everything about Facebook games, where the readers can learn about Facebook game benefits but will also get strong knowledge about the Facebook/mini game development process, how to select a game engine from numerous game engines and much more.
Facebook Game Revenue​
While researching this topic, we found interesting things that people are searching "Is the video game industry bigger than holly wood?". Yes, it is fantastic to share that the gaming industry is generating more revenue than the cinema and music industries.
"In 2020, the U.S. video game industry grew 27% to $56.9 billion in revenue, says NPD Group, surpassing movies and music combined" published in USA Today globally-recognized print media of the United States of America.
So, the above revenue generation information makes it more interesting that investors and gaming companies are generating high revenue on their investments. So, if you also want to invest in the gaming field, then the Facebook gaming platform is one of the few best platforms to launch your game.
"Facebook Gaming has grown to become a legitimate threat to the throne that Twitch has held for some time as the premier video game streaming platform. Passing Youtube Gaming for the first time ever in hours watched in a quarter signals a passing of the torch for second place and is clear evidence of Facebook Gaming's impressive growth. While the social media giants have plenty of catching up to do with Twitch, it seems to be well on the way to become a more competitive rival."
Robert Pascal, eSports editor, at Safe Betting Sites.
Mr. Pascal's statement made it clear that the Facebook Platform is proliferating and becoming a formidable competitor of YouTube Gaming and Twitch.
Before going to start the main advantages of launching a game on Facebook platform, we would like to tell you,
What is Facebook gaming platform?​
Facebook Gaming platform is similar to YouTube Gaming and Amazon's Twitch. However, Facebook gaming platform offers Android users a few more perks. Apart from the streaming factor, the platform allows users to join groups and also has mini-games sections like Ludo Club, Water Slide, OMG and more. Users can play Facebook games without installing any third-party app.
So, now we are going to discuss the benefits you can get by launching a game on Facebook gaming platform.
Unique Distribution​
Facebook games are developed on HTML5 technology, which makes them the most accessible games for all devices as HTML5 are web-based games that can be played on cross platforms. Moreover, HTML5 games take less time to develop in comparison to developing games on other technology like Unity or Unreal. Furthermore, HTML5 games can be shared using a unique URL.
Easy Promotion​
Facebook games can be easily promoted through a variety of features available on Facebook itself. Those features help businesses to grow their game through organic practices. Facebook requires businesses to create a page for each game, which helps businesses engage more users on their page and manage the community using the game page.
Wide Audience​
Facebook has the largest user base among all of the social channels available in the industry. So, it offers more opportunities to grow your mini game. The best thing about Facebook gaming platforms is unified within Facebook.com. So, it enhances your game's reach to a wider audience range without making extra efforts and investing dollars in running paid ads.
Hassle-Free Monetization​
Facebook offers hassle-free monetization facilities to the business that leads your business in the right way. As Facebook offers businesses to show ads within their gameplay. The platform offers two types of ad integration formats: the first one is for rewarded videos and the second is Interstitial Ads.
In-Game Purchase Feature​
Facebook allows gaming companies to sell coins, powers and other elements in their gameplay. Indeed, it is a bonus point,and you can launch your game with in-game purchase features on Facebook instant gaming platform.
20+ Game Genres​
Facebook enables developers to publish 20+ Game Genres on its gaming platforms. Facebook allows developers to publish games in Arcade, Action, Adventure, Battle, Board, Builder, Card, Casino, Design, Match, Merge, Puzzle, Quick Play, Quiz Trivia, Racing, Role-Playing, Runner, Simulation and many more genres.
Multiplayer Games​
Developers can also publish multiplayer games on the Facebook gaming platform as Facebook offers features to publish multiplayer games with tournaments and other amazing features.
What are the best Facebook game development engines?​
Many searches shows developers and businesses are finding out about search engines for creating Facebook instant games. So, in this blog, we have covered the answer to Frequently Asked Questions : Why do I need a game engine to develop a mini game? What are the features required for the instant game engine? And so on.
Why do I need to choose the best engine for developing instant games?​
There are numerous game engines available in the gaming industry that are being used for game development. However, each game engine has its own pros and drawbacks, like most AAA titles are developed on Unreal game engine, while Unity is famous for creating casino games and other 2D games.
To make your work easier, and give you the convenience of selecting the best game engines for mini game development, we have already tested and we know these engines will perform well for Facebook instant platform.
These five engines are also prescribed by Facebook platform and are easy to use. These can be used by non-specialized developers too, as these engines don't require special coding knowledge to create a game.
Cocos2D Game Engine​
Cocos2D supports many animation features like Skeletal Animation and Sprite Sheet Animation. It also supports Coordinate systems, Effects, multi resolution devices, Textures, Particles, Transitions, TileMaps and more. Also, it adopts a RenderQueue design. Some other features can also be obtained with Cocos2D like supports auto-batching, auto-culling and caching transform.
Construct3 Game Engine​
Construct3 game engine is a clean and simple to use software. Construct3 offers many features that can help us to create amazing games such as backward compatible, performance improvements, JavaScript Coding, time line Animations, text and SpriteFont Styling, and more. We can quickly add new levels and features without much fuss using this game engine.
GameMaker Studio​
With the help of GameMaker Studio, developers can bring any dream into reality with its numerous excellent features it give the best result in building sprite-based 2D games.
Some of the best developers have stated that "In our experience, GameMaker Studio tool set allows you to make just about any game you can imagine, whether large or small."I
GDevelop Game Engine​
GDevelop is also a non-skilled game developing machine. Truly, a non-developer can design their game idea on this engine as it activates the game's actions without having to learn any programming language. Moreover, this engine has capabilities to empower you in designing build for any platform.You can create any type supported on the FB instant platform using this engine.
Phaser game engine​
Phaser game engine is suitable for those developers who want a solid base on which to build their games. Phaser is one of the popular and preferred game engines, that is good for developing cross-platform games.The game engine is compatible with a wide range of plugins and has a large community of developers with Phaser.
Note: Facebook also added the Unity2Canvas game engine to their prescribed list, which can help developers to export their existing game code to an Instant game code (HTML5 code).
How to develop a game for the Facebook instant platform?​
Facebook supports HTML5 games, which are also known as mini games or web-based games. These games are developed using the above-mentioned game engine or can be developed with customized game engines.
Building instant games follows the same development process as HTML5, like pre-production, production, quality assurance, launch, and post-production maintenance. Moreover, designing games for the instant platforms also required consideration of Facebook norms, which are mentioned on the official website.
Respect boundaries
Don't criticize
Don't be rude
Don't flood the chat
Don't self promote
Keep it clean
Wrapping up:-​
In this blog, we have concluded the advantages of launching the game on the Facebook gaming platform and mentioned the prescribed game engines for game development. Also, render an idea of how you can develop your Facebook instant game with ease.
If you are looking for an experienced Facebook game development team who can help you to create exciting and impeccable Facebook instant games, you can hire Gamix Labs. We delivered many games for the Facebook platform, like Ludo Champ, Number Puzzle, Minesweeper, Intruder etc.
FAQs​
---
Can anyone deploy games on Facebook platform?

Yes, any game developer or game producer can deploy their instant games on Facebook platform by creating a developer account.
Does Facebook have a multiplayer game option?

Yes, Facebook allows developers to deploy instant games, including multiplayer, arcade, board, learning, Puzzle, and many more.
Are there any charges for playing Facebook instant games?

No, Facebook doesn't charge a single penny for playing Facebook games as these games are deployed for entertainment purposes on the platform.
How much does it cost to create instant games?

The development cost of each game varies and depends on the project complexity and the client's requirements. Click here to know more.
How can Gamix Labs help us in creating the Facebook games?

Gamix Labs team is well-versed in game development and has delivered more than 250+ games for different platforms. We also have hands-on experience in developing Facebook instant games as we developed Ludo Champ, Number Puzzle, Learning games, and many more.
How can I earn through Facebook game?

Facebook allows developers to enable ads during the gameplay, which helps developers to earn money through Facebook game development.