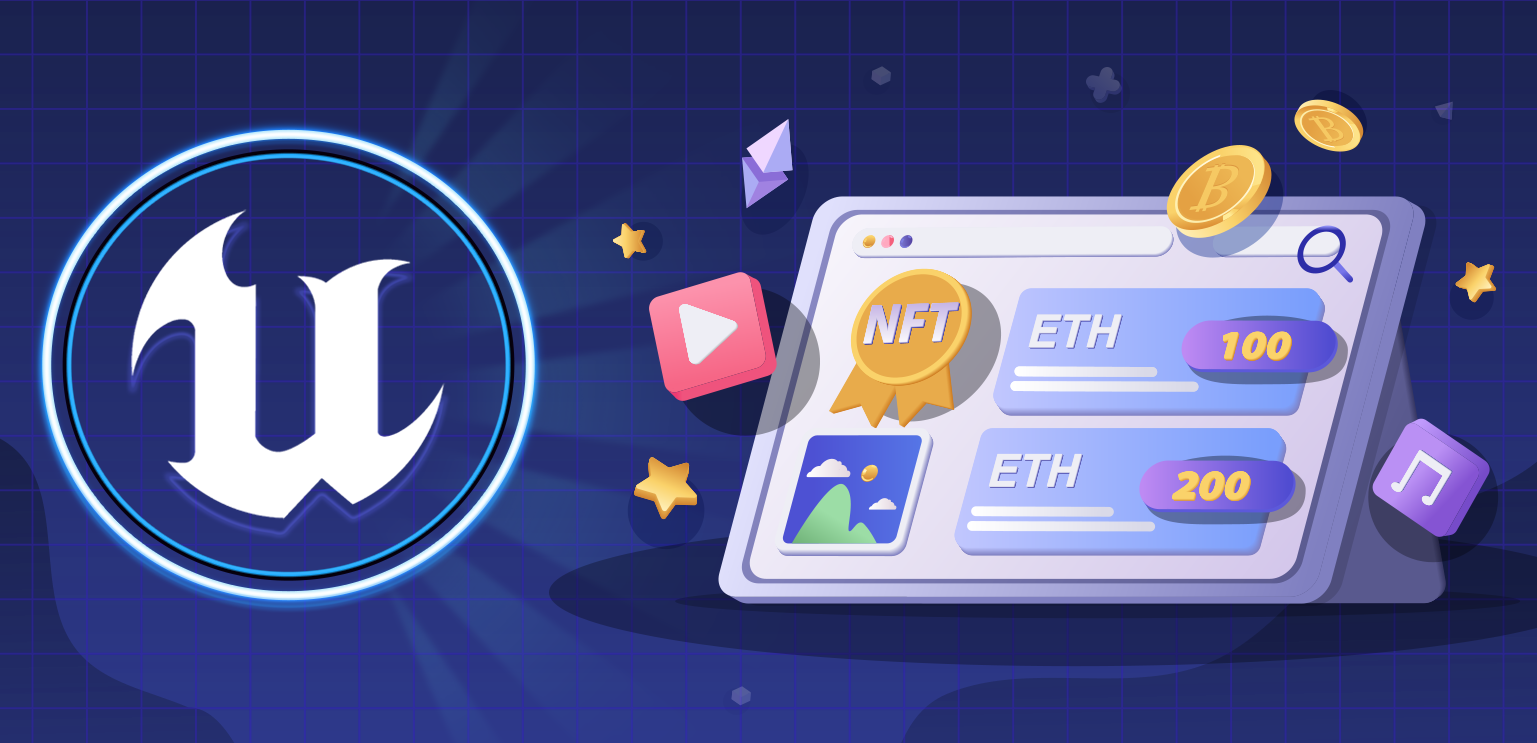 We know it is not a big deal that you have already heard about Unreal Engine, as it is one of the most popular game engines. Over thousands of titles have been developed on Unreal (UE1 to UE5 game engines). Unreal Engine is among the preferred engines and is well-known for game development and 3D content production.
As the gaming industry is evolving and always adopts cutting-edge technologies, it has adapted NFT these days. So, many gaming firms are confused about its development and think it is hard to develop, and they believe in creating a particular engine for NFT game development.
However, it is not a great idea because there are various features in our regular game engines that can help us to create NFT game development like we have introduced Unreal Engine.
We will tell you about how to create a "play-to-earn" game using Unreal game engine, including the assistance of an experienced NFT game development company, and how it can be helpful for your development journey.
Before diving into the main topic, we will briefly explain NFT games; however, you can learn about Play-to-earn games by clicking here.
What is NFT or Play to earn game?​
NFT into gaming has a newly introduced game model, also known as Play-to-earn or P2E. In an NFT game, the in-game assets, reward won, and the space in which the game is set can be made into an NFT by tokenizing, and users will get NFT and crypto rewards according to their game performance. NFT can be traded for real-world currency, making it popular among gamers.
Why use Unreal engine for NFT game development?​
It is a known fact that the Unreal engine is enriched with a complete set of tools for game developers. Moreover, the engine is super flexible for designing and developing games for different game screens with various game elements, including ERC-721 tokens support feature.
Yes, Unreal engine supports ERC-721 tokens; this standard allows for the creation of NFTs on the Ethereum blockchain, which means that developers can build games that use NFTs as in-game items and rewards. Moreover, Unreal has a visual scripting feature called Blueprint that makes complex game mechanics without coding.
Advantages of using Unreal for NFT game development​
UE is awesome enough to meet the consumers' specifications. We highlighted features of Unreal that would help you in NFT game development.
Customization​
Unreal Engine offers customizability that makes it stand out from other game engines. Using UE, developers can create a cutting-edge metaverse ecosystem with features that enable users to access customized collectibles, virtual items, and game rewards.
Taxation​
Unreal Engine also has a fantastic feature for the taxation process; it has dedicated wallets where users can transfer their transactions into tax tokens. Earning with NFTs doesn't save you from paying taxes, and this feature ensures that 'play-to-earn' gamers must declare their earnings to the taxman.
Graphics​
Unreal game engine is top-notch in the case of graphics development as it uses C++, which helps developers to create games with the finest and most immersive graphics that mimic the movie-going experience of the gamers.
Gaming experience​
Unreal Engine offers a fabulous gaming experience to gamers without changing the gameplay irrespective of where you place NFT and on in what form. UE plays well to fulfill the specific user need to a great extent.
Easily convertible​
With the Unreal Engine 5 NFT extension features, developers can integrate their selected NFTs into their games using specific technical workflows. This helps developers concentrate on their game without spending extra time placing NFT in their game.
Why hire an experienced outsourcing firm for NFT game development?​
Building a great team with the same dedication toward the game is not easy. Moreover, it is a tough task to communicate with different mindsets openly about game development, sharing decision-making, responsibility, and accountability.
However, hiring an outsourcing development team can achieve all these factors. Indeed, It's a smart decision to work with an external group with minimum time investment and resources that you will have to put into creating a development team.
Flexibility​
Hiring an outsourcing company offers flexibility and freedom from involving complex development processes. Video game development is a complex process, and changing deadlines is nothing new in game development. However, once you have chosen a firm to collaborate for development, you will be free to set their deadline and give a deadline for the project completion. Moreover, after the initial deadline is reached, you can choose to ramp down the amount of assistance you need or stop it too.
Cost-Effectiveness​
With the decision to hire an outsourcing game development company, you can eliminate the cost of full-time employees, training sessions, managers, and other resources that are required to run a business. Moreover, you will not have to purchase more hardware and software subscriptions that are needed for the project development.
Time-saving​
An experienced game development company has development experts who know the processes inside and out. They will help you deliver your game on time and per your expectations. During this time, you can focus on other areas of business development.
Wrapping up​
We hope this reading helped you to learn about Unreal usage for NFT game development; moreover, we have outlined the advantages of hiring a game development services outsourcing company.
Gamix Labs is full-cycle game development, helping different businesses with games that help them achieve their goals. We have experience in NFT game development, HTML5, Facebook instant, Unity, and Unreal game development.
---
FAQs​
Can you make NFT with Unreal Engine?

Yes, we can develop NFT game using UE as the engine is loaded with various amazing features that enabled us to develop NFT game with it. Moreover, Unreal engine supports ERC-721 tokens; this standard allows for the creation of NFTs on the Ethereum blockchain, which means that developers can build games that use NFTs as in-game items and rewards
What are the two biggest game engines?

Unreal and Unity are the two popular game engines in the industry, and are most preferred choice of developers for creating AAA titles to NFT game development.
Does Unreal Engine require coding?

Unreal Engine work with C+++, a text based coding; additionally, it has a blueprint feature which enabled developers to develop game without writing any code.
Does Unreal Engine support blockchain?

Yes, UE supports blockchain networks. It constructs and sends blockchain transactions and communication with smart contracts directly from the engine.
Why hire Gamix Labs for NFT game development?

Gamix Labs is an experienced game development company and is associated with many gaming companies worldwide. We have worked on various project that involve blockchain technology and other web 3.0 integrations. We have also developed an NFT game for Dinomonks. With us, you can be benefited in many ways, like flexibility, cost-saving, on-time delivery, and much more.